Expand Menu For More Items
Fall of the Berlin Wall
The first step toward the total removal of the wall happened on November 9, 1989, at about 7 PM. Gunter Schabowski, leader of the East Berlin communist party, announced that the border would be opened for "private trips abroad." After this announcement spread among the people massive gatherings began around the wall. Wall "woodpeckers" started tearing down parts of the wall almost immediately. This began large scale emigration out of East Berlin. On November 10, 1989, and December 22, 1989, checkpoints were opened for pedestrians. Again parties broke out. On July 1, 1990, East and West Germany reunited. It assumed West Germany's former name, The Federal Republic of Germany. All travel restrictions were dropped. Almost the entire wall has been taken down. It is still in place as a memorial at the Bernauer Strasse and in front of the Neiderkirchnerstrasse, the former Prussian Parliament and current Berlin Parliament.
Click Here for a Summery Video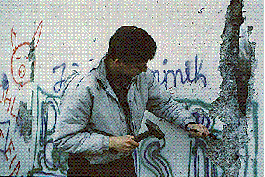 (c) 2001 Nathan Wolski All pictures and graphics are reproduced with permission of owners and are under copyright of there respective owners.